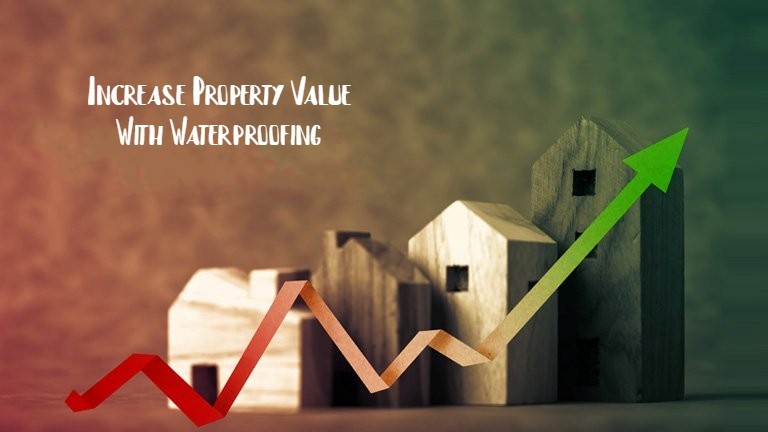 Waterproofing your property can help in increasing its value!!
Construction and Waterproofing Chemicals: Brings Beauty and Strength to Your Construction!
When we think about constructing our property – be it a house, an office, or even a farmhouse, what we focus on the most are two things. They are beautification of the home; by implementing good looking interiors and the durability of the home by using quality materials during construction.
Hence, one must focus on waterproofing the home right at the time of construction to keep the home durable for generations. This waterproofing process is extremely important for a home because one can redecorate the home as many times as one wants! However, if the quality of construction and waterproofing chemicals used is not up to the mark, then it is almost impossible to make a home durable and long-lasting.
There are many quality-check measures that one must take to ensure sturdy construction, but the one that needs to be taken care of the most is – Water Leakage.
Understanding Water Leakage
Water leakage is the most common problem that people face in their houses. Homes constructed using a compromised quality building material may fall prey to natural calamities, but that happens rarely. However, water leakage is a common problem in every home, which deteriorates the constructed structure from the inside. As a result, homeowners have to face problems during the monsoon seasons. Apart from the monsoons, leakages from water storage tanks due to ineffective and low-quality waterproofing can also deteriorate the entire roof and spoil the infrastructure, resulting in a dripping ceiling. Further, this situation along with other sources of water leaks can also spoil the beauty of your interiors by creating ugly spots namely molds and patches on the ceilings and walls, while affecting both the health of the occupants and the interior furniture.
Every civil engineer, architect, or contractor should understand that any construction not only requires good designers but also needs good quality construction chemicals and waterproofing solutions to eliminate the danger of damage due to water leakage. Else it increases the recurring repairing cost of the home, with other expenses to maintain a healthy home.
Hence the need for construction and waterproofing chemicals, right at the time of construction!
Impact of Waterproofing and Construction Chemicals on Construction
When we talk about improving the quality of the construction, our main concern is that the products we use for construction or waterproofing solutions should be of top quality and genuine. As a result, we usually go for reputed brands to ensure the quality of construction chemicals. However, barely anyone knows that ensuring a durable and long-lasting construction does not only need branded waterproofing solutions. But one must ensure; the mixture of desired and appropriate amount of cement with admixtures and acrylic to ensure water doesn't enter even from any crevices or cracks in the building.
Just as a little amount of metal like bronze is added to make gold stronger and harder, similarly, an appropriate and fair amount of cement mixture with admixtures and acrylic goes a long way in improving the durability and providing sturdiness in any construction.
Hence, waterproofing solutions and other construction chemicals are necessary for construction to increase and maintain the value of your property for future use.
Primary focus to increase value of a property 
Now when we talk about the value of a property, one must ensure that the following five areas of the property are constructed flawlessly – the basement and foundation, the bathroom and kitchen, internal and external walls, roof, and the water tanks. These five areas are the main sources of internal water damage, hence should be taken care of, especially during construction, by ensuring that the best waterproofing solutions are implemented, along with sound mixture of cement.
By maintaining a flawless construction of these sources of dampness and water leak, right at the time of the construction the longevity and durability of the property can increase manyfold. This process, in return, will improve the overall value of the constructed structure – by lowering the cost of maintenance and repair, highlighting the importance of waterproofing in increasing the value of a property.
Sturdflex the best choice for Waterproofing and Construction Chemicals
So if you are planning to protect your home for generations from water damage, then finding the right waterproofing and construction chemical partner is the start to increase your property value.
However, finding a perfect partner who would provide a complete waterproofing solution without any errors is extremely difficult. That is where Sturdflex comes in! Let's walk you through how Sturdflex can help with the best quality complete waterproofing and construction solution for your civil structures.
Sturdflex's waterproofing solution comes with a quadruple promise, which ensures error-free execution of waterproofing and damp proofing solution, which includes:
A dedicated waterproofing planner who will guide you on the selection of the right waterproofing solutions for your home based on requirements and the area of the home
A dedicated technician who will evaluate your site and provide tailor-made solutions with cost and material estimates for your home
A dedicated waterproofing and damp-proofing expert who will be in charge of training your mason, engineer, or applicator on the perfect way to perform the waterproofing treatments with high-quality waterproofing chemicals and construction chemicals developed in our state-of-the-art plant
Sturdflex assures; 1 free site inspection to ensure that the waterproofing application is done properly so that error-less execution has been made to waterproof your home
These unique assurances from Sturdflex ensure the construction of durable homes, which would last for generations, in turn increasing the value of your property in the process.