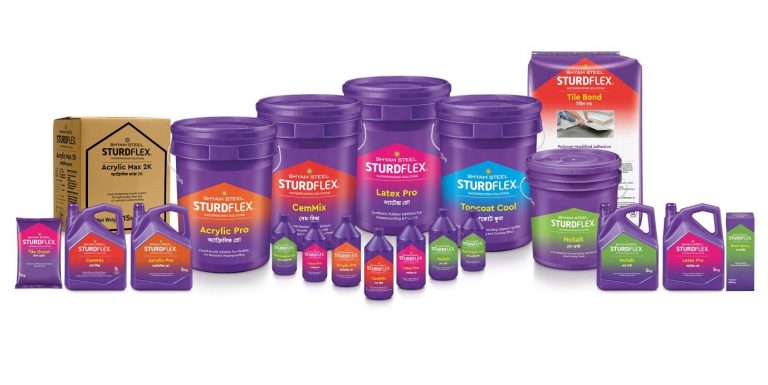 Sturdflex – A Complete Waterproofing Solution for your home
Home! A sound that gives us warmth and a cozy feeling every time we hear about it! A term that signifies the dreams of millions of Indians – that everyone wishes to have one day.
Now imagine that dream getting true and then crumbling in a moment. Did you enjoy the feeling? I guess not!
That is exactly what happens to your dream home when you build it without any waterproofing solution. Did you know that 80-90% of new homes experience damp-related damage within the first 6-18 months? And if you don't want your home to be one of these damaged properties, which may crumble because of dampness it is important to take the right steps at the right time.
That is why to help all our fellow Indians with their dream home to last a lifetime, Shyam Steel brings to you Sturdflex. The perfect waterproofing solutions for your home that help you overcome all damp-related problems. Besides this Sturdflex also gives your home the right strength it needs to overcome all water-related problems, which may damage the home.
Now that we know in brief what Sturdflex does, let's walk you through in detail – What is Sturdflex and how it can help in protecting your home.
What is Sturdflex?
Sturdflex is a waterproofing solution brand manufactured by the Shyam Steel Industry using 7 decades of experience with technology, innovation, quality, trust, integrity, and reliability. The brand represents a gamut of waterproofing chemicals including;
Integral waterproofing admixture
Various layer waterproofing chemicals like latexpro (SBR – Styrene-butadiene latex C12H14), 
Acrylic pro (Acrylic – Poly(methyl methacrylate) (C5O2H8)n)
Max2k (2 components liquid applied cementitious waterproofing system)
Top coat cool (thermal insulation comes waterproofing coating with advanced pud technology C3H7NO2)
Rust removal and preventive chemicals, and more.
These chemicals function as a complete defence system for your home against all types of water damage and are hand crafted keeping in mind the weather condition of India.
Now that we know what is Sturdflex let's take a look at why Sturdflex is important!
Why use Sturdflex to construct Damp-proof Homes
At Sturdflex we believe waiting for water damage to occur to do waterproofing is a bad idea, because once water damage appears, we have already lost. Water damage can go undetected for a long period of time. By the time water damage is visible on the surface, the internal structure may be severely damaged. That is why at Sturdflex we always suggest it is a wiser decision to use our waterproofing products, during the construction of your homes. 
The use of Sturdflex during the construction process will not only allow your home to stay protected from damps and water damages caused by water seepage but will also help your home to last a lifetime. One of the major reasons behind this; is Sturdflex's ability to cover up the pores and joints that cause water seepage and water penetration in a newly constructed building.
Further, according to a thematic qualitative research conducted by our internal team on the government housing development data. The root sources of damp and water seepages in the old property (5 years and above), and new properties (below 5 years) are as follow:
Ground water seeps into your home from the foundation. 
Water from indoor wet areas like bathrooms, kitchens, etc.
Rainwater seeping in from the roof
Water seepage from improper window installations
Damp formation from using bricks with high salt content
It is because of this reason, at Sturdflex we have combined our years of experience to develop a waterproofing product range that can help you completely secure all these locations. Thus, pave the foundation to a waterproofing construction that can live on for generations to come. 
Now that we know why Sturdflex is important for damp-less and waterproof homes, let's walk you through how Sturdflex can help!
How Sturdflex can help with waterproofing solutions  
The Sturdflex waterproofing solution has been developed with the intent of being more than just another regular waterproofing company in the market. That is why at Sturdflex we provide our customers with a range of services including;
Proper guidance by our waterproofing construction planner to help you select the right waterproofing solutions for your home.
Our Technician will visit and evaluate your site and provide tailor-made solutions with cost and material estimates for waterproof construction.
At Sturdflex we believe in expanding the horizon by sharing knowledge and education. That is why our waterproofing experts will train your mason, engineer, or applicator on the perfect way to perform the waterproofing treatments.
Besides these numerous services, we will also provide you with 1 free site inspection visit to ensure that the application process is being carried out properly. 
These services ensure that all our consumers not only get a complete waterproofing solution for their homes but also get step-by-step assistance to be absolutely accurate when developing their waterproof, damp-resistant dream home. 
So if you are an individual who is looking for a waterproofing solution when planning to construct your dream home, you can get in touch with us.
To Know More you can call us on our toll-free number: 1800 123 1003 or connect with us over our Whatsapp at 8100 55 66 77.