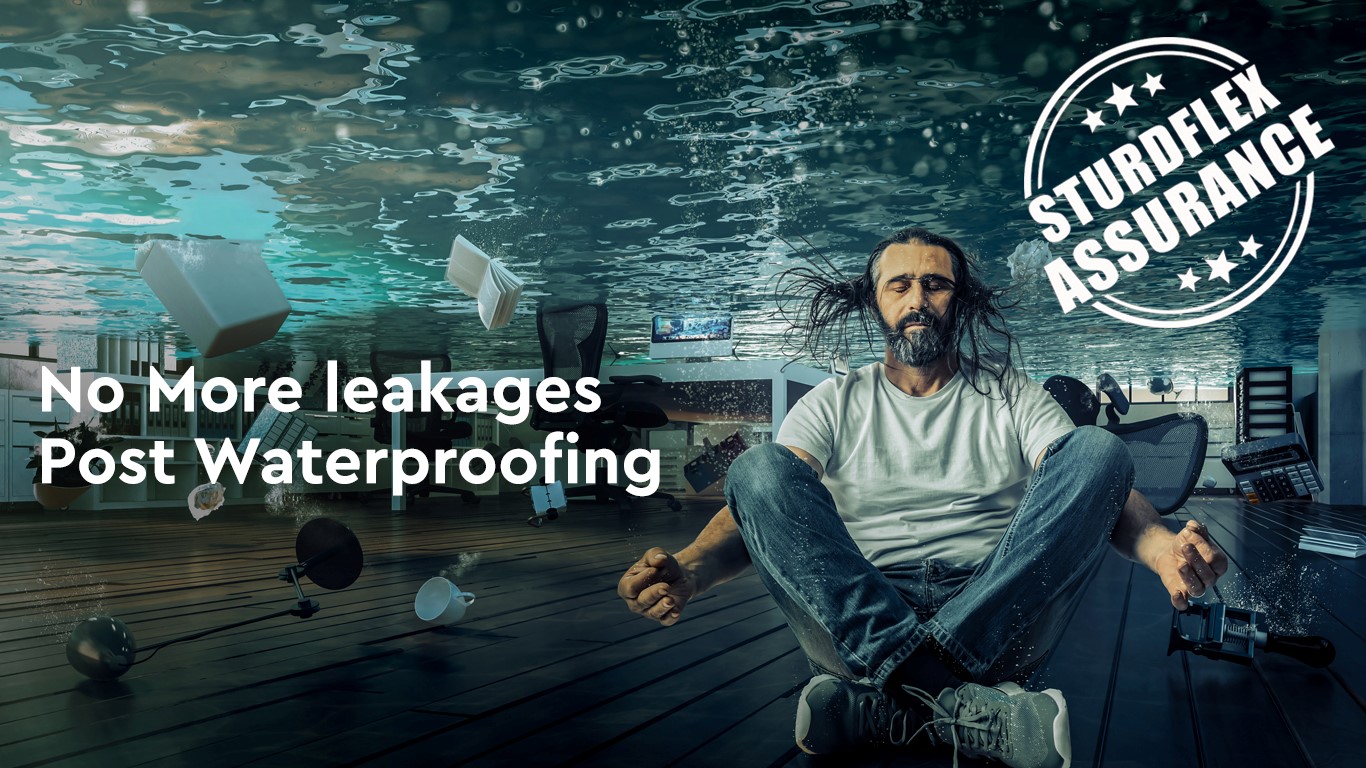 Are Leakages haunting you even after waterproofing? Don't choose random waterproofing expert. Call Sturdflex, the Best Waterproofing Solution in West Bengal
We know for a fact that waterproofing makes up between 1% and 2% of the total cost of construction of a building & accounts for up to 80% of the complaints & massive costs in repair. This understanding has made project owners cautious and considers proper waterproofing planning in the pre-construction stage. However, even after planning & spending on waterproofing systems, it is observed that leakage issues still prevail in most of the buildings.
Why is this, the case? Why do these issues still challenge us even after all these years in the industry? Those leakages are proof of errors in the planning, spending & execution.
Our main concern here must be to identify & address these errors, in order to increase the likelihood of successfully waterproofing the structure.
Here Are A Few Main Errors Resulting In Leakages Post-Execution
1) Inappropriate Selection of Materials & Systems due to lack of 'Benchmark' or 'Appropriate Selection Criteria'.
2) If the Site conditions are not Evaluated properly, then as a result, even good materials & systems will underperform.
3) The single biggest cause of waterproofing failure is Poor Workmanship. It accounts for 90% of all failures in waterproofing. No matter how good a material or system is, if it is installed incorrectly, the results would not be fruitful.
4) In order to Save Costs & meet the Client's budget, the contracting team may often resort to disregarding the ancillary components of the system, or might even settle with lower-quality materials.
5) In order to meet the construction targets, the appropriate process & order of waterproofing installation is ignored.
6) Ignoring Surface preparation before installation, such as remote cleaning, filling cracks, fixing protrusions, vacuuming & priming. The waterproofing membrane is only as good as the surface on which it is applied or installed.
7) Residual Moisture in the Substrate causing adhesive failure or de-bonding of the waterproofing membrane.
8) Not adhering to the Manufacturer's Guidelines on Installation.
These are just some of the major reasons for the failure of waterproofing systems post-execution. Shortlisting an expert, knowledgeable, trained & professional Waterproofing Contractor is necessary for overcoming these challenges.
Hence, it is extremely important for consumers; to find a perfect partner who would provide a complete waterproofing solution without any errors. That is where Sturdflex comes in! Let's walk you through how Sturdflex can help with the best quality complete waterproofing solution for your civil structures.  
How Sturdflex can help solve errors resulting in leakages post-execution
Sturdflex's waterproofing solution comes with a quadruple promise, which ensures error-free execution of waterproofing and damp proofing solution, which includes:
A dedicated waterproofing planner who will guide you on the selection of the right waterproofing solutions for your home based on requirements and area of the home
A dedicated technician who will evaluate your site and provide tailor-made solutions with cost and material estimates for your home
A dedicated waterproofing and damp-proofing expert who will be in charge of training your mason, engineer, or applicator on the perfect way to perform the waterproofing treatments
Sturdflex assures; 1 free site inspection to ensure that the waterproofing application is done properly so that error-less execution has been made to waterproof your home
These quadruple promises of Sturdflex ensure an error-free and sound waterproofing solution for your home so that you don't have to worry about leakages post-waterproofing treatment.
Why Choose Sturdflex?
Sturdflex is a venture by Shyam Steel Group, one of India's leading industrial houses, with a legacy of 7 decades. A name synonymous with reliability and quality and is trusted by millions of customers across India. At Sturdflex we offer complete waterproofing solutions for your civil structure, right during the time of construction. Our quadruple promise ensures delivery of error-free waterproofing solution so that you don't face leakage problems post execution. Our waterproofing products along with proper technical support can help you fight against dampness and provide you with an economical and permanent solution! With Sturdflex waterproofing you can now overcome damp problems for life while saving money on the yearly repairs. 
To know more about error free waterproofing solutions and damp repair for your residential, commercial, or industrial place, get in touch with us at: 
Toll-free– 1800 123 1003 
Whatsapp– 8100 55 66 77 
Email– help@sturdflex.com
Important Note 
Leaks can sometimes occur in really small areas & it can be very difficult to identify the source of those leakages. On the other hand, if the leak source is left unidentified, its impact can affect other areas as well. Since the entry & exit points are different, a lot of trial & error takes place in the process of finding the source of leakage. However, by the time the source is identified, the damage that has already been caused is huge.